Dr Sándor Hornok, the head of the Department of Parasitology and Zoology is in cooperation with researchers from 30 countries and has translated and edited nine esoteric books, most of which are related to the Buddhist religion and ideology. His research is focused on the regional and seasonal occurrence and the veterinary and human health significance of ticks and other blood-sucking arthropod vectors, and the pathogens carried by them. Here's an extract of our interview with him.
 – Professor, how did your journey start and how did it lead you to the University of Veterinary Medicine?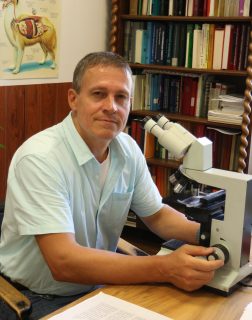 – I grew up in Buda as a child of technical intellectuals who provided me with the opportunity to study as much as possible. So I became a straight-A student at primary school. Back then I was already planning to work with animals later on. During my high school studies at Árpád Grammar School, my father suggested that I should become a veterinarian rather than a zoologist because the former offered a more stable career. I was enrolled with the highest possible number of points in 1987.
  – So, was it easy as pie in István Street, too?
– I was no longer a straight-A student at the university but I got into an excellent year group. In 1990, one student of the year group was given an opportunity to spend a year at a pet clinic in the United States as part of an exchange programme. I applied and my fellow students voted that I should be assigned to travel to Cleveland. When I got back, my resolve was strengthened to choose research over pet practice. I was gravitating towards parasitology because I considered it as applied zoology. In 1992 Professor Tibor Kassai, the head of the Parasitology Department offered me a chance to travel to the University of Utrecht (in the Netherlands) on a Tempus scholarship and conduct immune-parasitology studies there. I got my DVM diploma in 1994.
– And you stayed at the University.
– By then, the Parasitology Department was already headed by Professor István Varga and I was informed that he launched a PhD thesis programme to conduct research into the cryptosporidiosis disease, and I was admitted. Professor Albert Cornelissen of the Utrecht University was my co-supervisor. In 1998 I became the first Hungarian veterinarian to defend my dissertation in the Dutch city.
Utrecht got a special place in my heart for other reasons, too. During my studies there, while I was able to make due progress in my research, I happened to enter an antique bookstore in my spare time. Browsing through the religion and philosophy shelf, I found a photocopied volume of the collected teachings of Hermes Trismegistos, one of the best known figures in ancient literature. This book introduced me to the world of metaphysical thinking. I followed this path and it led me to Buddhist philosophy. I've translated nine books into Hungarian, some of which are now required reading materials in ELTE University's Tibet programme.
– Did the visit to the antique bookstore change your approach to research?
– Yes! I no longer wanted to conduct in vivo animal testing. According to Buddhist tradition, if you benefit from the death of an animal, your karma will be bad. During my post-doctorate research, I turned towards studying ticks and other blood-sucking arthropods and the pathogens carried by them. I had the opportunity to start a wide-ranging research programme, where I now have partners from nearly 30 countries. In this period of my work, I got a lot of help from Professor Róbert Farkas. Over three decades, I have enjoyed the support of three of my department head predecessors.
Reading the dissertation you submitted with your application for the Doctor of Academy (DSc) title (and which you are scheduled to defend in 2020), I found that two of the world's known tick species may be especially precious for you since you discovered them as new species.
When it came to the first one, we had to descend into the depth of the earth in the Ariadne cave system of the Pilis region. Until then, we had only known two tick species parasitizing bats in Europe. The new species, named Ixodes ariadnae, was collected in one of the Maiden Cave halls in 2013. The research also involved associates of universities, research institutes and NGOs. The specimen of the other species was collected by someone else. It was recovered in Vietnam but it also occurs in the caves of the Himalayas right where the saints lived who were the subject of the books that I translated. In cooperation with Vietnamese and Japanese scientists, I identified Ixodes collaris as a new species in 2016 and, just like the one in Pilis, it deserved an independent taxonomic status.
Interview by Gusztáv, Balázs – UNIVET Magazine, 2019 September