Our Admission Officers are here to answer all of your questions regarding UVMB (University of Veterinary Medicine Budapest). Join our Instagram Live Q&A Session this Thursday at 2 pm (CET) and we will answer your questions. This week Gabriella and Romario the horse is waiting for you.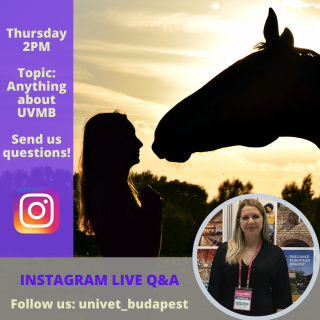 Feel free to ask anything about the University, the admission process, the study program or Budapest, this week we do not have a specific topic.
Submit your questions 24h before using the Instagram Story Question cards, so we won't miss any of your questions.
Platform: Instagram
Date: June 11th, Thursday at 2 PM CET
Follow us on Instagram now, so you won't miss any of our important news!