We are here for you! And by that we mean not just now but when you first arrive at our university and become a UVMB student till the end of your studies (and ever further…).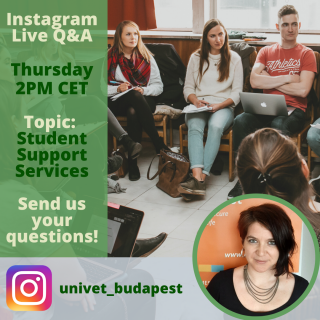 Our next Instagram Live Q&A Session this Thursday at 2 pm (CET) will be about the Student Support Services we offer to make your life easy and fun during the years you spend here.
This week Anna is waiting for you, live from campus, feel free to ask her.
Please make sure that you submit your questions 24h before using the Instagram Story Question cards, so we can answer all of them.
Platform: Instagram
Date: June 18th, Thursday at 2 PM CET