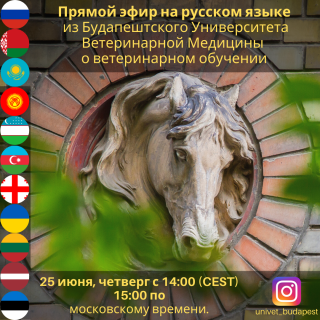 Thinking about becoming a vet? Join our next Instagram Live Session on Thursday, June 25th at 2 pm (CET) to learn everything you need to know about the University of Veterinary Medicine Budapest.
If you have any questions use the Question Cards in our Instagram Story, it opens 24 hours before the live session.
Our Instagram account is univet_budapest, follow us now! See you on Thursday!
Отвечаем на вопросы – прямой эфир на русском языке.
Хотите стать ветеринаром? Смотрите нашу следующую прямую трансляцию в Инстаграме в четверг (25 июня) в 14:00 по Будапештскому времени (CEST), в 15:00 по Московскому времени. Содержание: часто задаваемые вопросы о Будапештском Университете Ветеринарной Медицины.
Если есть вопросы, используйте Карты для вопросов в сторис за 24 часа до трансляции.
Следите за нами: univet_budapest. Увидимся в четверг!