Instagram Live Session on Thursday at 2 pm (CEST)!
This week our Admission Officer, Kata is waiting for you with a guest, Levente Somogyi, live from campus!
Levente is a student mental health counsellor working at the University of Veterinary Medicine Budapest. During his job, he offers a safe place for students to share their experiences and to explore ways to cope.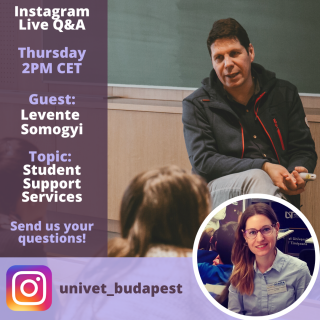 They will talk about the following services:
Study-buddy finder
Mental health counselling
SAM-buddy
Learning techniques courses
Do you have questions? We are here to answer them!
Please make sure that you submit your questions 24h before using the Instagram Story Question cards.
Platform: Instagram
Date: Jule 2nd, Thursday at 2 PM CEST