Instagram Live Session on Thursday at 2 pm (CEST)!
This week our Admission Officer, Gabriella is waiting for you with a guest, Ciara Reynolds vet student, live from campus!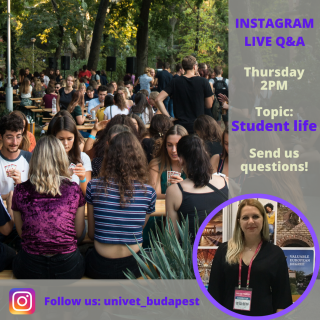 As an international student, what kind of challenges can you expect if you choose to study abroad? How is life in Budapest?
During the Instagram Live Session, they will talk about the university, the education, the student services, the events and a lot more from the perspective of our current students. Ciara will share her experience and give you useful advice.
Do you have questions? We are here to answer them!
Please make sure that you submit your questions 24h before using the Instagram Story Question cards.
Platform: Instagram
Date: 23rd July, Thursday at 2 PM CEST