As a little boy, he herded animals, learnt folk dancing and playing the trumpet – despite the fact that he grew up in the inner city of Debrecen. Although his genetic inheritance ties him to the Carpathian mountains, it's the Hortobágy that amazes him the most. He is fourth-year veterinary student Zoltán Danyi who wants to be involved in food animal healthcare after graduation. Our December issue is made the same way as our last of the previous semester: we are talking via the Messenger app, just like we did with Arisz Ziszisz in June. Interestingly enough, the two of them together gave a memorable online veterinary student concert, logging in from two different locations for the same show. Here's an excerpt from our interview.
– In the spring, we were very disappointed when we were told that we were not allowed to give a live concert in the hall. We organized everything in advance; all we had left was to go to the concert. I have grown to become part of this event; I was still practically in my first year when they posed the question: what if I was going to organize it from then on? As I had been playing music since primary school, I felt I had to make sure that the series continues this year, too. With a lot of cooperation, we could save the event by carrying out the programme online, based on Jázmin Luca Erdélyi's initiative. It was an uplifting feeling to give something nice to the University's citizens.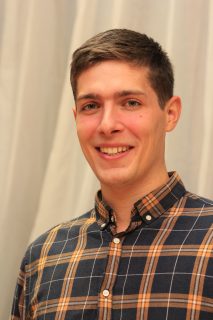 – You seem to be feeling at home as part of a community.
– That's correct. I was born into a family where it was the natural thing to do. In addition, the communities of my birth city Debrecen just reinforced these feelings in me. I grew up in the inner city where I travelled everywhere by bike and I could always get in time to any of my destinations, including the Debrecen Music School where I went for 10 years altogether. I studied playing the French horn for a short while, then the trumpet. Playing a musical instrument is a social activity – even if you are a soloist. Education was also conducted in the school where we met two-three times a week so I inevitably developed a need for a social life.
– What's your favourite genre?
– It depends on where I play. In my music school classes, where it was just the teacher and myself, I loved Baroque music. As the years passed by however, I began to feel this music was the hardest to play. By the end of my studies, we also practised modern pieces, and I grew to like them, too. If we are playing in an orchestra, I like anything, including classical pieces, military marches, contemporary pieces or pop crossovers. I tested myself in dance and rock bands, too. I still get some invitations from the guys when they need a trumpet for a particular piece. I even toured abroad with the Soroksár Music School and we travelled together to such places as Italy, France and Belgium.
– You were also attracted to folk dancing…
– Perhaps even earlier than to music school. Our neighbour's son started practising folk dance and I followed him. I actually stayed with the Debrecen Folk Dance Ensemble from kindergarten all the way to my high school graduation. When I was admitted to the University of Veterinary Medicine, I was very happy that I could continue preserving our traditions in our Szilaj Folk Dance Ensemble. As far as I can see, our ensemble receives more and more attention from our fellow students.
– Why did you choose veterinary medicine as a career?
– Visiting our relatives for the holidays and the summertime became natural for us. My grandparents on both sides of the family were involved in animal husbandry. This kind of traditional farming is more typical for my relatives in Transylvania. As a little boy, I was driving the herd too, and I like this kind of involvement with animals. I've been asked the question why I did not study to be a human physician since my academic grades were good enough to apply for the medical university, too. I usually answer that vets also work for human health, although indirectly.
– What has been your experience like with online education?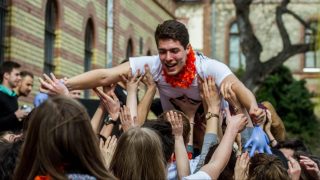 – Some people's lives were hardly changed by this at all. It's no secret that they did not attend the classes before, either. To each their own. I am one of those who think that if you are a university student, it's your job to attend the lectures and listen to the teachers. In fact, I actually like lectures. I miss going to the university. Of course, I am not fully separated from those who became my friends over the years: we live on the campus and keep contact online. We may actually benefit from this hybrid education when it comes to special classes or Saturday lectures. We can still participate in an online conference even if we travelled home for the weekend.
– Is it true that the majority of the students wanted to keep the practical classes?
– Yes! The student council launched a poll to start a petition asking the management not to put off the necessary practical classes on account of the pandemic, if possible, since practical classes are essential for your studies; your degree is not truly complete without them. We were very happy that the Rector granted our request, which also meant that our stay on the campus was justified, and we didn't have to go through the ordeal of moving back home in the spring.
– You are the president of the Student Welfare Committee of the dormitory. What is this body responsible for?
– Our primary goal is to make campus life more colourful, and the other, equally important job is to act as a go-between among the students and the management of the campus. I was elected into the committee at the end of my second year, and I've been busy trying to help the body's work in every area. In September, the committee saw a huge change of membership since many of them enrolled their fifth year, so I became president. Our first big test was to organize the Marek Days in October. According to the feedback we received from the students, we can be proud of the result.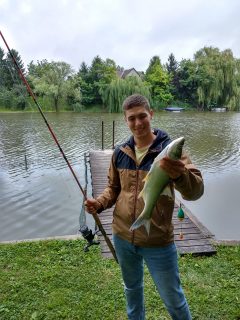 – How do you envision your future as a vet?
– I want to work with food animals. The University's pig study group was founded two years ago. As members of the group, we can get additional insight into pig breeding as well as the life and challenges of veterinarians specialized in pig healthcare. My work in this study group was part of the reason why I chose my research topic, which I want to develop into a paper for the Student Research Societies. I try to see other places, too, for example, I pay occasional visits to the workplaces of UVMB graduates. I've seen quite a few cattle farms this way. I am planning to be involved in the veterinary care of these two species after my graduation. And where? For a few years, anywhere. Then I might take my skills back to the Debrecen area.
Interview by Gusztáv Balázs