Third-year biology student Zoltán Kánya has gone a long way from the Nagykunság region to the University of Veterinary Medicine. He was born in Karcag and raised in the village of Tilalmas, 10 kilometres from the town.  In his high school years, the young man got a chance to stay in Transylvania, Germany and England through the János Arany Talent Management Programme. He gained experience in various competitions. He believes – and acts accordingly, too! – the worst-case scenario is that you don't win anything but if you try, you may as well win. Here's the English summary of his interview for our magazine.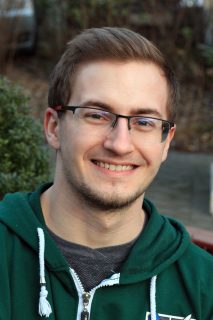 I made the Christmas of 1997 memorable for my family by being born, he says. My father and my mother have 4-5 siblings so I have more than 10 cousins on each side. However, I only have one sister to boast about. She's 15 now. After some plans to become a confectioner or a veterinarian, she is studying at the Karcag secondary school in the environmental engineering faculty.
I went to primary school in Karcag, but it was natural for me to run back to the beautiful landscape of my home after the classes. I still remember the aroma and the taste of the fresh cow or goat milk that I got in my little mug for breakfast. The family always had some delicacy on the table from the home-grown poultry and pigs, too. We spent the summers at the Tisza river. We were camping, fishing and I also got familiar with the flight of the black and red kite that I got my name from (Zoltán's surname means kite (Milvus) in Hungarian, the ed.).
I took my baccalaureate exam at Katalin Varga Grammar School in Szolnok. With the support of the János Arany Talent Management Programme, I was able to spend some time abroad, which helped me to acquire my English language certificate and even my driving licence.
Even as a teenager, you stood out with your competitiveness!
In fact, I already made it to the Top 10 of Minimax channel's drawing contest as a kindergarten boy, for which I got a nice stuffed animal via mail. Later on I participated in science and literature contests. One day I might make my way into the webcomic category, too. We performed with my high school's theatre group in the the Pécs Art Days festival. I try to grab every opportunity to test my abilities. The worst thing that can happen is you don't get any reward but if you try, you might as well win! This was my experience when I participated in an orienteering race or when I achieved a surprising result in the Vivicitta. I actually won the contest to design the T-shirt for the Marek Days festival which was held to commemorate József Marek's 150th birthday.
Let's not get ahead of ourselves! How did you choose your career path?
I've always been attracted to animals and nature ever since my early childhood. Although I marked the veterinary faculty as my first choice, I was very happy when I got the text message that I was admitted to the biology programme. It's a well-known fact that you need the highest points to get into this programme of the University of Veterinary Medicine. My chemistry baccalaureate exam didn't turn out as good as expected. At first, I thought I would get to know the University and the community here and then I would re-take the baccalaureate exam. However, I realized what research opportunities were offered by the biology programme and I grew fond of the student community, too even in the freshman camp.
What did you find especially captivating about the studies here?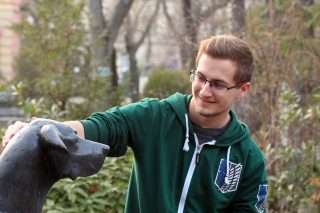 The taxonomy of ladybird spiders. I have been studying this area at the Ecology department under the supervision of Dr. Tamás Szűts and Dr. Krisztián Szabó. The unique feature of this spider family, which research projects also focus on, is that we know the physical appearance of the male and female specimens of only six species all over the world, 5 of which can be found in Europe and 3 of which live in Hungary, too. You can collect ladybird spiders on the nearby Tétényi Plateau and then use them as fresh samples for genetic evaluation. We have specimens of these spiders from Siberia, China, Turkey, Germany and the neighbouring countries, too. We are also studying their genetic connections and trying to shed light on their variances in physical appearance. For example, we are looking into any potential defining features yet unpublished in the literature. The work involves making digital drawings about the maximum 1-centimetre long males.
Are you writing your thesis on ladybird spiders, too?
Yes, under the supervision of Dr. Tamás Szűts, who is an excellent spider photographer. Thanks to him, I found jumping spiders but I eventually chose ladybird spiders because this area is not so thoroughly researched and there are plenty of loose ends to tie up. I am writing my degree thesis through participating in the genetic work conducted in the Aquilab.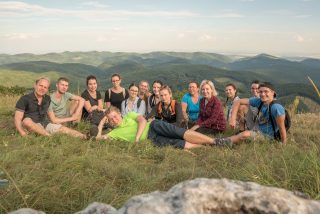 How did you become the head of the biology student committee of the Student Council?
I applied for this position with the support of my fellow students in order to try and forge a more tight-knit community from our group and improve the information flow. I believe this job requires a communicative student and the others thought I could be the one, probably because I had started to organize the zoologist-biologist meeting where university alumni who are already actively involved in the work can share their experience with the next generation.
You said you participated in literary competitions, too. Did you keep this interest as a university student?
Yes, of course! Partly because theatre performances became a part of my life during high school. I cherish the many nice memories of them. For example, we could even see the pre-show performances in Szolnok's Szigligeti Theatre. We were frequent visitors of the theatre up until our graduation. I would do the same in Budapest, too, if only the pandemic was over! I always like listening to music while studying, running, drawing or cooking. I like a lot of genres. I listen to them depending on my mood. My friends say I make excellent playlists because they can find all kinds of music in them.
Gusztáv Balázs