It is a well-known fact: getting into vet school is hard, it is among the hardest. Universities offering veterinary medicine studies require top academic grades to even get a foot in the door. After you get accepted, you can start your life-long learning journey: veterinary education is amazingly in-depth and comprehensive. All the theories you absorb need to be applied correctly, this is when clinical practices come into the picture. The University of Veterinary Medicine Budapest is in a unique position with its well-equipped on-campus small animal clinic and large animal clinic in Üllő. The practice-oriented training program attracts students from all around the world to complete their studies in Budapest. Read our interview with Maitha Alhassani who is here for a special one-year training from the United Arab Emirates University.
Please introduce yourself briefly to our readers. Let's start with your background and education.
My name is Maitha Alhassani and I am 23 years old. I spent my childhood in a city called Al Ain in the Eastern Region of the Emirate of Abu Dhabi, which is also known as the "Garden City" due to its greenery. I grew up in a small family, my father is a police officer and my mom is a biology lab specialist.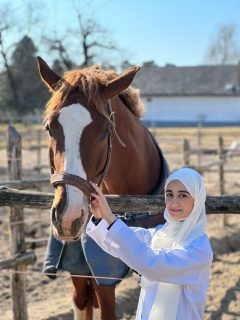 My parents supported me to attend top-ranked schools in my city. After graduating from high school in 2016 I chose to study veterinary medicine at the United Arab Emirates University (UAEU), which was established by his highness Sheikh Zayed bin Sultan Al Nahayan in 1976. It is the oldest university in the United Arab Emirates (UAE). The veterinary medicine field is quite new, it has been available since 2013.
When asked why they chose this career, vets usually say it is the love of animals, others connect an important childhood memory to animals. What about you?
I live and grew up in a family that loves animals and raises livestock on a private farm. These animals were often suffering from different diseases and needed medical care. When I was around 14 years old, I started helping my grandparents with the livestock; mainly it was my task to give the medicines prescribed by the pharmacist beside our farm. At that time I learned that in our region there is a lack of professional veterinary staff. After graduating from high school I was confused, I wasn't sure which path to take: human medicine or veterinary medicine.
What helped you to make your decision?
My family encouraged me to go for veterinary medicine so that I could contribute to covering the shortage of veterinary professionals in the UAE. So I decided to become a veterinarian to treat ill animals and help the prevention of diseases. In my country, people consume a huge part of their daily food from animals. Health monitoring of these animals is very important to prevent the spread and transmission of diseases between animals and humans. Veterinarians have a vital role in the advancement and maintenance of food safety, they are a link between human and animal health.
What does this profession mean to you?
What I like most about veterinary medicine is the diversity: vets deal with more than one type of species. On top of that, our patients cannot express their feelings verbally. This career is characterized by a humane profession that serves animals and society at the same time.
How can you earn a Doctor of Veterinary Medicine diploma in the United Arab Emirates?
First, you need to enrol in the Bachelor of Veterinary Medicine program. This is a 5-year program at my university. During the 5 years, students take up to 9 general education courses totalling 27 credit hours, at least 12 credit hours of required college courses like Biology, Physics, Chemistry among others, plus 113 credit hours of veterinary major courses. The current curriculum in UAEU has been reviewed and overhauled, a new and expanded curriculum of 172 credit hours will be launched soon. As far as I know, the new curriculum will be focused on giving more hands-on experience so veterinary students can graduate with extra skills that make them more successful.
Your sending university the United Arab Emirates University has an agreement with the University of Veterinary Medicine Budapest, this is why you spend two semesters here. What is it about?
I am a fifth-year student now, I completed the previous four years at the United Arab Emirates University and in the fifth year we moved to the University of Veterinary Medicine Budapest to do the clinical practices regarding small and large animals. Our university does not have a teaching hospital, so it is not possible to learn clinical sciences on campus. Therefore, the UAEU entered an agreement with UVMB to train final-year students in Budapest, so they can get veterinary experience and skills from the best doctors.
What is the difference if you are a vet in Hungary or UAE? What kind of animals do people keep in your country?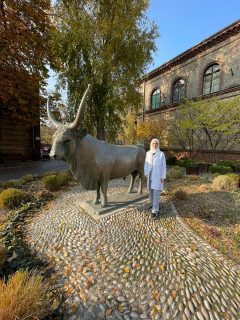 In my country, most families have small farms called "Alezba". It is used for husbandry of such animals as sheep, goats, cattle, horses, deers, various species of birds and camels. So we need more veterinary professionals who can treat these species.
Regarding camels, they are an important part of Emirati culture that dates back to its roots. In the past, camels were said to be God's gifts to the Bedouins, as these animals made life possible in the desert, providing for example transportation, clothes and even food. Nowadays, camels are a symbol of the local culture, as well as an attraction for tourists to ride. Camel racing is also a huge part of Emirati culture and life today. Camels are part of the entertainment industry, camel racing became a beloved sport in the region. And of course, some people have dogs and cats at home, just like in Hungary.
You have started your second semester in Budapest. What is your opinion about the university and the student life here?
The Emirati course is quite separated from the other international courses because we are here for a specific training. We have our own schedule, so the university provides us with separate classrooms and resting rooms as well. I really like here that everybody respects our hijab and they have never forced us to take it off or replace it. Many thanks to UVMB teachers and fellow students for this.
Also, I can tell that the communication between professors and students is smooth and open. There is no need to wait for a specific time or office hours to ask your questions or talk about your problems.
Do you have a favourite teacher whose work made an impression on you?
I would highlight professor Tibor Németh, he is very professional, a highly qualified surgeon. People bring their pets to him not only from Hungary but from other countries around. He is supportive and during his lessons he delivers the information very smoothly, in non-complicated ways. I really like his explanations and enjoy his surgeries. I also would like to mention dr. Péter Molnár from the radiology course, he is very helpful.
You are about to graduate soon. What are your plans for the future?
I would like to work in an animal hospital for the next two years in my country and then start postgraduate studies abroad. I plan to come back here to Budapest, I became familiar with the university, the professors. UVMB is one of Europe's oldest veterinary training establishments with highly qualified doctors and professors. I am honoured to be one of its graduates.
Good to hear that. Is there a certain field or type of animal you would like to focus on?
I am interested in small ruminants and I want to specialize in surgeries because there is a lack of good professionals, there are not many Emirati vets specialized in this field. The last time I was a volunteer in a hospital, I helped a surgeon who was suffering from serious work pressure because she was the only surgeon there. During my practice with her, I realized that I can imagine myself as a surgeon, especially the soft tissue surgeries are the focus of my interest. As every DVM, I would like to be a very good vet who saves lives.
What advice do you have for students considering a career in veterinary medicine? What makes a good vet?
A veterinarian will meet animal owners, breeders and farmers who are stressed or distraught over their animal's condition, every day. Vets need to be sensitive when dealing with the emotions of the owners, especially in cases where the animal is severely ill or when euthanasia is necessary. Second, veterinarians should treat animals with respect, regardless of whether the animal is someone's pet, livestock or a wild animal rescued by a concerned individual. Last, you should keep in mind that this profession requires lifelong learning. New diseases emerge, they develop new techniques, new research and experiments are performed time to time. You need to be aware of all of these to be a good veterinarian.