Our University's new finance director has a future-forward, strategic mindset and considers stability and reliability as the most important values in terms of business management. In Univet's interview, Bernadett Bendik talks about how UVMB's leadership strives to ensure a rock solid operation not just for the next six years but the upcoming two decades as well. She's confident that the University will be able to guarantee job security for its employees despite the high inflation and the likely economic recession. Here's an extract of our interview with her.
What does it take to become a good economist?
I think economics is just "common sense". What you basically need is logic. I know two kinds of economists. The first is an executor, the second is a strategist. I consider myself the latter. I can quickly understand the correlations and usually sense the right direction.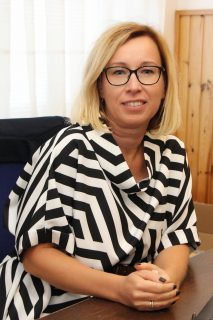 When did you find out you had a knack for strategy?
My career took off on a lucky start early on; I could begin working as an immediate associate to the chief administration officer of AB Aegon insurance company. I learnt a lot from him about strategic planning and management. He involved me in whatever he could and taught me. That's why it was so hard for me to change, but it was necessary to join Ernst&Young's team to grow professionally. There I had a chance to be surrounded by young and ambitious colleagues. Working 12-14 hours a day, we gained a lot of knowledge about every area of business. One day I was evaluating a landmine factory, the next day I was involved in making business plans for the Paks Nuclear Plant. I think you can learn the basics of finance, such as accounting and calculation at school, but the rest, such as systems thinking and attitudes come from the practice of your professional life, for which I gained a lot of experience from my time at E&Y. From small enterprises to large corporations, we worked everywhere in biweekly or monthly shifts. So I attained a lot of practical, applicable knowledge in these five years. It was a very different education process than the usual economist career where you climb the corporate ladder within the same company. I am not position-focused, anyway. I am much more interested in the challenge itself. On the other hand, I'm also the loyal type. After my E&Y years, my former boss called me back to work with him on the renewal of a public utility company. It was a huge challenge for me as well. I learnt a lot and my colleagues and I could close many successful years.
How did you integrate into the life of a university where nearly all decision makers are veterinarians?
In the first quarter, perhaps not many people thought that a woman would become a long-term head of finance management at the university. It was a new area for me, but I love learning and I strive for efficient operation, which sometimes involves a kind of communication that is perhaps more direct and outspoken than usual. I like to call things as they are, because it speeds up the decision making processes. I have no other boss than the Rector, who is an excellent strategist. I work under his management. Although our professions are different, we have the same long-term thinking, so I believe we can work together in harmony. My colleagues and I are responsible to provide support and a stable basis for education, research and clinical work in line with the needs of the particular area. With that in mind, we strive to make decision-making processes more simple and logical in the given legal environment. I often emphasize that finance is a supporting area, so our operation is considered good when there's not much to see and hear about our work. By the way, this is very much congruent with my personality.
Our other task is to provide decision support materials for the Rector. This solely consists of our presentations with regard to the potential business and financial consequences of a decision. The final decision is always made by the Rector based on the research, science and business aspects. I work for success, but not for individual, self-serving purposes. It's the success of the community, the University that matters to me.
What changes does the foundation-based operation model bring into business management?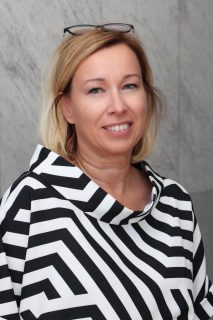 It offers a lot more independence and more opportunities, which come with more responsibility as well. I've been here since 1st January 2021, and I consider the first year very successful. Together with the Rector, we gave the highest priority to the University's overall goals. Thanks to the seven-year financing agreement we signed with the Ministry of Innovation and Technology, we have better opportunities in terms of education and research as well. As a result of our negotiations, the agreement with the Ministry stipulates that the University receives a specific state subsidy for each Hungarian student that is equivalent to the tuition fee paid by the students enrolled in the English and German programme. That has never happened before! Partly because of this achievement, we were able to raise wages significantly and introduce certain welfare measures that no other universities could implement to the same extent. On the other hand, we've been keeping the budget under strict control, because development projects cannot be carried out without financial stability.
How does it feel to be a University citizen?
I've usually been able to integrate into all of my workplaces. So far there's been only one place where I couldn't identify with the organizational culture and values, but it became clear very soon.
On the whole, I love working here. I am motivated and inspired by good challenges. My husband says my job has won me over, because I'm still occupied with my workplace tasks at home. I feel the University is my second home. When I have a meeting, I usually go to the offices of the people I am to meet. While I walk across the park, my mind is refreshed. I marvel at the magnolias and feel lucky. I hope that our buildings will soon become just as attractive on the inside as the Campus' appearance and environment is on the outside, because if instructors and researchers can work in the environment and with the equipment they need, their work will not only be more pleasant, but more efficient and prolific as well. The other reason I prefer to hold my meetings in my partners' offices is because it allows me to talk with people I otherwise rarely meet in my daily work. The University is really a big family, and I like working in a team that includes everyone, so I consider everyone's opinions and comments important, because they are the ones who know their area the best. Hierarchy is important in any decision making process, but you need honest feedback to make good decisions.
Photos and text: Gusztáv Balázs