On 21st November 2019, future veterinary students got an insight into the life of the Budapest and Üllő campuses. Coming from Ireland, the Netherlands, Germany, France, Greece, Korea, Australia and Brazil, the guests visited the pet and large animal clinics, the equine clinic and learned about the University's history and the training programme.
On a chilly November morning, thirty parents and students were waiting for their turn to walk around the Budapest campus of the 232-year-old University of Veterinary Medicine. In addition to the Student Centre, some lecture and practice halls, they visited the anatomy and pathology museums and they could peek into the daily life of the pet clinic, too.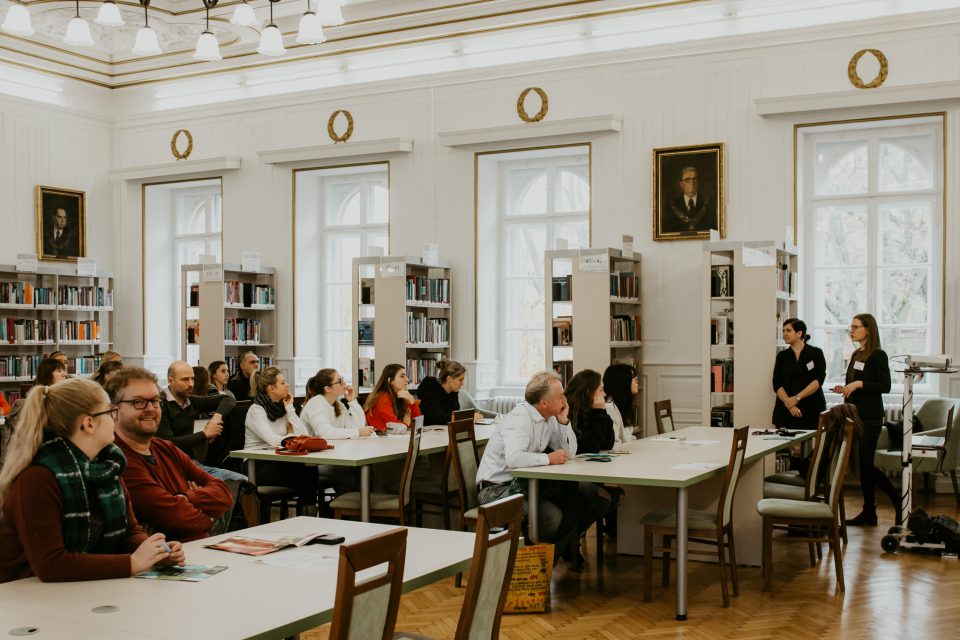 The participants of the "International Open Day" event were welcomed by vice-rector for international affairs Dr. Tibor Bartha as well. As he put it, the veterinary training programme is where you are required to study the most but you can become part of a beautiful profession in return. The first two years allow students to learn all about the functioning of healthy organisms, then they study the diseases one by one, and they eventually learn how to cure them. The Budapest Campus is the most international community with students coming from nearly fifty different countries each year.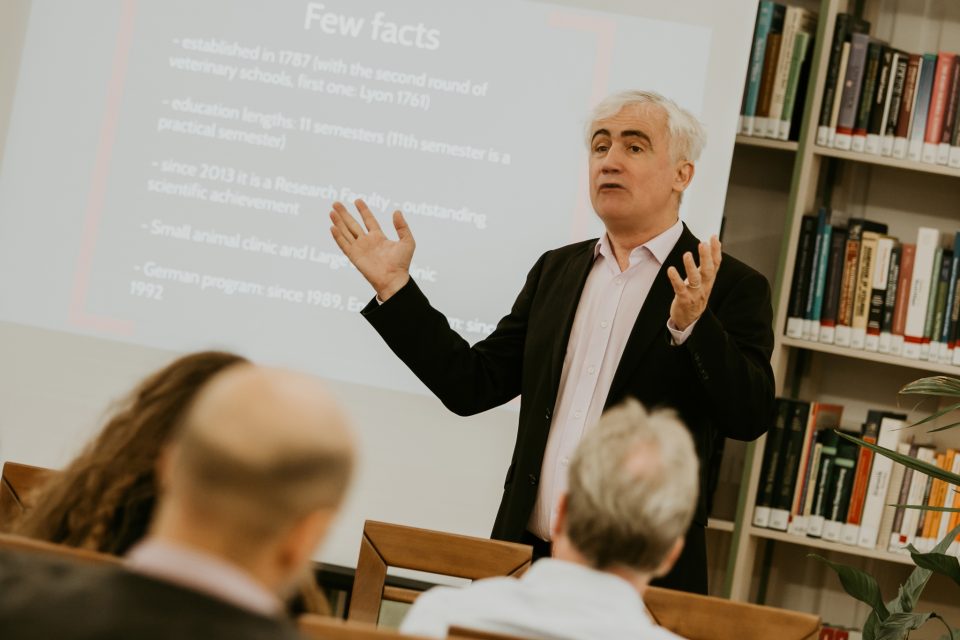 Besides the admission and training requirements, the presentation gave the visitors an insight into Hungary and Budapest as well. The vice-rector explained the benefits of the undivided European Master's degree, the application process, the admission tests, the University's extracurricular and leisure time activities as well as the career opportunities for graduates. We are about to introduce a new online admission system for next year, which was first announced to the participants of the Open Day.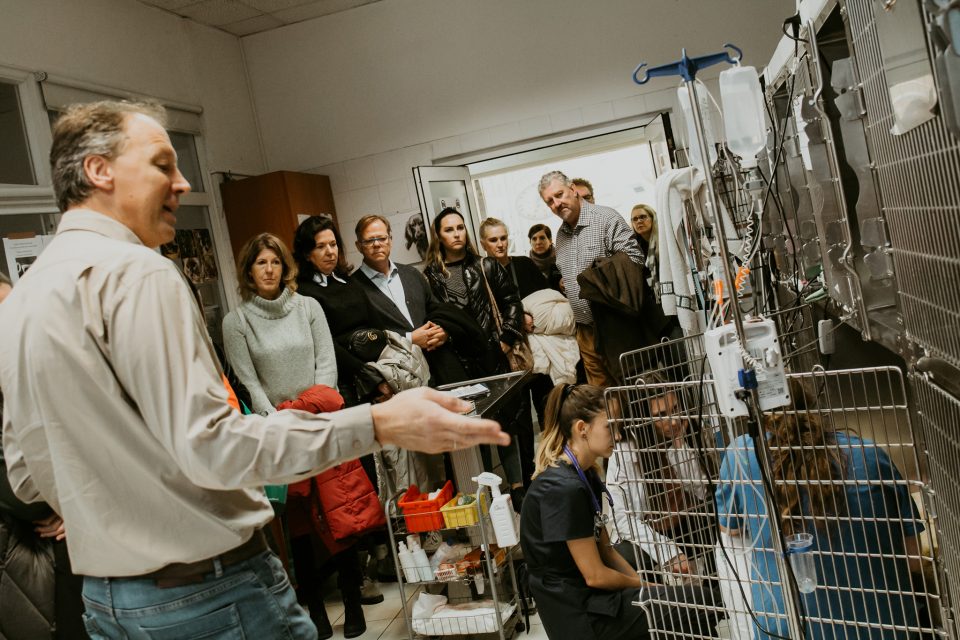 In the afternoon, the students and the parents went to see the University's educational farm along with the large animal and the equine clinics. They walked all the way through the units of the clinics: the operation and preparation rooms, the stables and even met a few patients. Then they took a look at the University's own horses and a big walk in the farm to see the pigs, the cattle and the poultry.
At the end of the day we asked the participants about their first impressions and their reasons to become vets:
Alexandra (Greece): My goal is to become a vet so that I could help animals. I spent last summer at the University of Bristol's summer school where I gained a lot of practical experience. I have also worked in local surgeries and clinics in Greece. I love the buildings in this campus and the many museums and exhibitions.
Edel (Ireland): Ever since my childhood, I've always wanted to be a vet. Last year I spent a month in Zimbabwe as a volunteer in a wildlife rescue centre. I enjoyed it a lot and I knew this is what I wanted to do in my life. Each day was a new experience, I never knew what the next day would bring. I like this Open Day very much, I think it's a good university. The campus is small but you have plenty of room to read and study.
Sky (South Africa): I've always loved animals and been attracted to medicine. I love natural sciences, biology and chemistry were my favourite subjects at school. These are the two passions I have: animals and sciences. My mother's family is Hungarian, I love Hungary, the culture and the food, too. I love the university, it's small but very focused. I particularly like the practical side of the training programme.
Lorna, Hannah, Anna (Ireland):
Lorna: I've always been interested in animals. When my dog got sick and we couldn't help her, I decided to do this as a profession.
Hannah: I started a zoologist training programme which I still love but I realized I would not have enough contact with animals there. I want to work with animals and I'm interested in research, too.
Anna: I love animals, too, and I've always wanted to work with them.
Lorna: I like that the training programme includes a lot of practice, even at the beginning.
Hanna: I was amazed by the huge international community here. When you have to move from your home to a new place, it helps if you are surrounded by people who go through the same thing.
Anna: It's very difficult to get admitted to the veterinary training programme in Ireland. I like everything here and it seems so special.
Leonie (Germany): I've always dreamed of becoming a vet, I want to work in a veterinary clinic. Many graduates of this university told me they loved being here and it would be exciting for me to study abroad.
Charlotte (France): I want to help animals, I want to take care of them, that's the primary reason why I want to be a vet. I did my preliminary research and I found this university was very international, just like we could see today. I think it's very important for our future that I can meet many different people and cultures. Studying in English is another benefit, I think, even though it's not my mother tongue.
Furgil (Ireland): My daughter is sixteen now, we've recently heard about this great training programme and the huge international community here. It's very difficult to get into the UCD's veterinary programme, so we've been looking out for other opportunities, too. As soon as we entered the University, we were impressed by the familiar atmosphere here. The neighbourhood is safe, we had a walk around here last night (the last time I visited Budapest was twenty years ago). I think my daughter would feel great here.
Sandra (Netherlands): I like the challenge to take care of animals and find solutions to their different problems even though they can't tell you anything. I also like how international this university is, this is not quite common in my country.
Judy (South Korea): People can tell you what their problem is or where they feel pain. Animals can't do that and this is how you need to help them. That's what makes me want to be a vet. I came to Hungary seven years ago and I already decided to focus on this university back then.
Stephanie (United States): I've been living in Hungary for a few years now and I'd like to stay and study here. It's hard to compare the Hungarian and the American training programmes. Expectations and practices are different but I believe this university can offer a lot of opportunities that are given in the US and the programme is even stronger in a few areas.
Leticia (Brazil): I've always wanted to be a vet. However, my family chose the nurse training for me, it's a family profession for us. But now I've decided to follow my passion. I very much hope to get admitted to the university.