Good news! From now on the magazine consists of 36 pages, with even more English-language content.
For the first time, the newspaper announces a portrait interview with an international student. Our first subject was Aditya Daniel Jha from India, a graduate student, former ISC president, who started his long journey in India, continued in New Zealand and thank to a coincidence ended up in Budapest. Do not miss his fascinating story!
In the portrait session, you can read an interview with dr. Gábor Mátis who is an associate professor of the Divison of Biochemistry at the Department of Physiology and Biochemistry and has been working as the Director for Education at the University.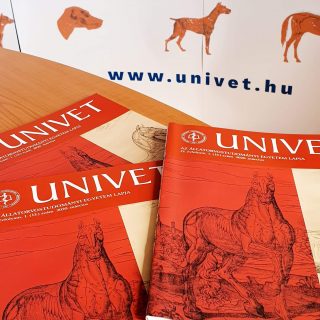 – I am proud to use chalk in our lectures and write down the metabolic processes together with the students, step by step – said dr. Gábor Mátis during the interview. – Due to the complexity of biochemical reactions, we actually need three large blackboards for that. The success of our method is clearly shown by the fact that our lecture hall is always full, even without an attendance list.
An excerpt was made from our interview with Mátyás Ágics, fourth-year vet student, President of the Student Council.
– I like living my life with as little rest as possible, with just as much rest as it is necessary. On the other hand, I do like playing. – said Mátyás Ágics, Student. – I still have a group of friends back from my high school years. If we have time, we get together to play cards. I don't read light entertainment or literary books, I always focus on the books that can help me develop some existing skills of mine. This could mean books on hunting or any other professional publication. The other thing I love is trekking, to be honest. Last year I began the National Blue Trail. My dream is to complete it from beginning to end, even in parts, if there's no other way.
Besides the interviews, you can read about the III. International Job Fair of the University, the great success our students achieved at the Edinburgh International Horse Riding Competition and about bacteriology practice lessons for high school students which were organized by the Department of Microbiology and Infectious Diseases. Missed the graduation ceremony? Read dr. Jestin Cécile's words of saying goodbye.
Read the magazine online by clicking here.