The creative art competition 2020 organized by the University of Veterinary Medicine Budapest on the occasion of Birds and Trees Day was a great success. The contest – which lasted for almost a month – gave opportunity to Hungarian and international children between the age of 6 and 18 who are keen on nature and animals to show their artistic vein and win some valuable prizes.
In the end, 581 applications were received – drawings, paintings, computer graphics, birdhouses, bird feeding stations, birdbaths, one by one made with great care and dedication. Seeing the popularity of the competition, the University decided to give extra prizes to 10 more artworks in addition to the three previously announced winners per age group. The students of the University could not be left out of the vote, they decided the winner of the UNIVET Community Special Prize which was revealed on the 17th of May.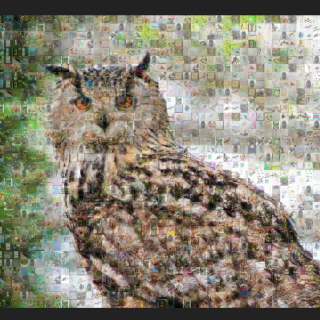 Wanting to give something special to every participant, a joint mosaic was made, which depicts the bird of the year 2020, the long-eared owl – exclusively from the arts of the kids. Click here to enlarge and check the projects individually.
Once again, we would like to thank all the children for the extraordinary creations and their parents who helped them to participate in the competition. We thank Prof. Péter Sótonyi, Rector of UVMB and Dr Gergely Bohátka, Chancellor of UVMB for making the competition possible. Last but not least, huge thanks to the sponsors of the event for offering the prizes of the winners: the Budapest Zoo and Botanical Garden, the Bonsai Hungary, the team of yourart.hu, László Bujáki painter, Flóra Jakab and Bence Máté nature photographers and Dr János Gál.
Winners
Winners of 6-13-year-olds:
1st place: Vivien Nóra Gáspár (10) – prize: Animal Adoption and Zoo Tickets
2nd place: Gréta Rozgonyi (12) – prize: Online painting course
3rd place: Mária Schmidt (9) – prize: Bonsai tree
Winners of 14-18-year-olds:
1st place: Tímea Karlovics (17) – prize: Animal Adoption and Zoo Night Walk
2nd place: Kíra Leszkovits (16) – prize: Picture by Flóra Jakab – nature photographer
3rd place: Viktor Vizi (14) – prize: Bonsai tree
Additional Prizes
Brigitta Eperke Kovács (14) – prize: the Special Prize of the UNIVET Community
Georgina Hidasi (9) – prize: Painting by László Bujáki
Benedek Pécsi (11) – prize: Book about chameleons by Dr János Gál
Márton Varga (15) – prize: Book about pine snakes by Dr János Gál
Júlia Čongová (13) – prize: UNIVET gift
Letícia Teleki (8) – prize: UNIVET gift
Réka Balogh (11) – prize: UNIVET gift
Boglárka Izsa (11) – prize: UNIVET gift
Lea Halmen (8) – prize: 10 000 HUF Book voucher
Tünde Balogh (6) – prize: T-shirt with own painting print
Reménysugár children's home – prize: Visit of Dóra Major, Üllő (carriage rides, archery, petting animals, horseback riding)