Start-to-finish victories are few and far between. PhD student, Senate member and Doctoral Student Council vice president Dr Zoltán Somogyi is one of the many who were not admitted to the university for the first time. By the end of his second year, he found the golden middle ground that allows him to study hard and still have a life. He is an instructor and a researcher while he is also responsible for the veterinary care of a pig farm with 1100 sows as the attending vet – no wonder he won the Beginner Veterinarian of the Year Award two years ago. Here's an excerpt from the interview.
If you compare the human lifespan to the playtime of a football match, you could say that at the age of 28 you picked up the speed of the game, created a few chances and even scored some goals. You have an aptitude for many different positions on the pitch. Life is still ahead of you but you can already be confident about the final score. How did this happen?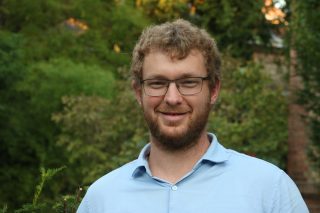 I was born in Debrecen and even though I lived in the inner city, I do feel like a true country boy. Reading James Herriott's books, I was dreaming of becoming a "visiting" vet who heals animals in small local farms. Beside my reading experience, the other inspiration to choose this profession was the fact that all of my grandparents had animals. As a child, I spent nearly all my free time at their houses, and my family helped in any way they could. Since my mother was a teacher, I was lucky enough to go to Pál Gönczy Primary School, which was in a suburban environment and taught animal husbandry as well. On the other hand, we had no vets in the family. My father worked for the railway company as a mechanical engineering line supervisor and education officer, while my mother was a teacher.
How did your dream become a reality?
It wasn't easy! I admit I didn't like studying as a kid. My mother used to say you can dream about becoming a vet, but if you really want to make it, you must study. She was right; I was not admitted for the first time. I already felt I wasn't going to make it even when I was still taking my A-levels. Since I decided I was not going to study at any other university, I applied to a chemical technician training school at once. When the admission scores were published, I was on holiday with some friends in Fonyód. I went on a walk and I received the text message with the rejection right when I arrived at a veterinary office. I made a vow that I would spare no effort so that I could get admitted next year. During the gap year, I obtained my driving licence and prepared for the biology and chemistry A-levels again. The effort was worth it, I became a university student in 2011. My goal for the first year was simply not to fail any of the exams so that I could continue studying without having to retake a year.
You managed so well that you had the best pharmacology exam results, you became the highest-ranking student and won the Fellowship granted by the Republic. I found this out at the 2018 Practice Management Conference when you were given the Beginner Veterinarian of the Year Award.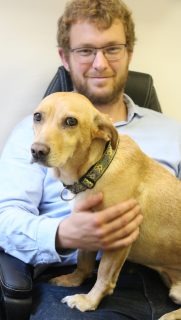 I did manage to fail a histology exam at the end of the second year, though. In fact, I also flunked the reproduction biology practice in canine cycle diagnostics, even though I spent all my time studying at first. For example, I didn't even get to the Equus Club until March. After a while, results began to come and I could see it was worth studying, which is a great feeling.
Your academic ambitions also intensified.
In my third year, I was fascinated by the Department of Pharmacology and Toxicology. Working with associate professor Dr. György Csikó, I began writing my first paper for the Student Research Societies, which was followed by another one, also under his supervision. My practice supervisor was associate professor Dr. Ákos Jerzsele (who is now the head of the department) and I kept close contact with him after completing the course. Eventually, both of us raised the idea that I should work here after graduation. I was also admitted to the university's doctoral school in 2017. I teach and do research, but I practice my profession, too. With the agreement of Dr. Ákos Jerzsele, I took on the attending veterinarian job of a pig farm with 1100 sows near Pécs in the summer of my graduation. The idea was that the department could benefit from my practical experience with food-producing livestock.
You study the movement of drugs into, through and out of the body. How important is pharmacokinetics?
Ever since the existence of drugs, the time course of their absorption, bioavailability, distribution in the body, metabolism and excretion have always been the subject of study. ADME is a very good abbreviation for it.
As a researcher, what is your focus within this field?
Florfenicol concentration in the joints of pigs. This is highly important because the only common point of the three potential pig arthritis pathogens (Streptococcus suis, Haemophilus parasuis and Mycoplasma hyosynoviae) is this drug, which theoretically inhibits the proliferation of all these three pathogens. However, you can't determine the exact dosage for practical application unless you know the concentration of this active ingredient in the joints. This information allows you to calculate if the treatment is effective against the particular bacterial strains.
What do you like doing outside your work?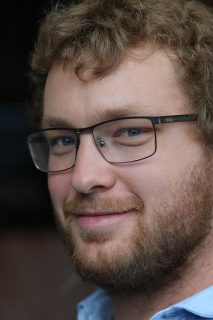 I don't have a hobby other than trying to spend as much, to use the popular expression, "quality time" as I can in good company outdoors. The new addition to my life is a puppy that my girlfriend adopted.
Reading on the literature is vital. My profession inevitably influences my interests as well. Right now I am reading the book called The Misery of Animals, which is about the responsibility of humans for animals, especially those tamed and held in captivity.
We are planning to see a theatre play in late October but we need to wait and see how the pandemic situation develops. It's easier to go to the cinema but, as I said before, nature is by far the most important recreation activity for us. Recently my cousin and I went to listen to the red deer rut near Mándok in the Záhony area where my aunt's husband is a forest officer and hunter. This summer I showed Hortobágy to my girlfriend. We visited the Bird Hospital, then cycled around Lake Tisza.
Interview by Gusztáv Balázs