In the fourth issue of our magazine, which closes the year of 2020, you can read about the most important news of the Rector's Secretariat, the candlelight commemoration at the end of October, the Marek Days and about the events which were placed in the online space because of the pandemic: the Scientific Student Conference and the Open day.
We report on the arrival and ceremonial handover of a new MRI device that can examine horses in a standing position and now available at the Department and Clinic of Equine Medicine of the University of Veterinary Medicine Budapest. The modern standing equine MRI has created a unique opportunity in Central and Eastern Europe for horse owners and those interested in equestrian sports. With the new diagnostic tool and the team of specialists, it can be stated without exaggeration that health care for horses can now be provided at a world-class level.
Dr Péter Sótonyi rector talked to Gusztáv Balázs, editor-in-chief about the important events of the university, the restrictions introduced due to the coronavirus epidemic, the benefits of the new operational model and the foundation's pioneering initiative.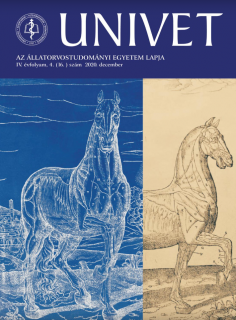 "The education programme always has the top priority at the university, followed by research and then services. This order applies even more now; it cannot be changed. As far as graduate education is concerned, the personal presence of the teacher and the student is an absolute must because this is the way to pass on the university's centuries-long ethos emanating from the Alma Mater, the "nurturing mother"."
In our student portraits, you can meet Zoltán Danyi, a 4th-year veterinary student who is the president of the Student Welfare Committee of the dormitory.
"Our primary goal is to make campus life more colourful, and the other, equally important job is to act as a go-between among the students and the management of the campus."
Savannah-Rose McAuley, who came to our university from Ireland, replaced her peaceful, country life with the busy city life. She talks about the challenges and difficulties international students face and the great opportunities for personal development.
"I wouldn't be the same person if I had stayed at home. You can explore other cultures, make friends from all around the world, it opens your eyes to new things. You have the opportunity to be free, independent."
Grab our newspaper from the usual places of the university or read the online version.