The 3rd UVMB Carriage Driving and Cooking Competition was held in the Üllő Campus on 8th June. The event was opened by Rector Dr. Péter Sótonyi and blessed by Prior Kelemen Sárai Szabó, the director of Győr's St. Ignatius Benedictine Church.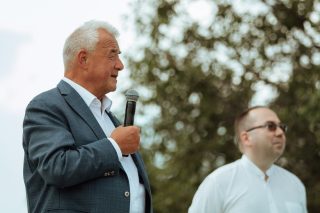 If we were to describe the event's atmosphere in one word, "relieved" would be the best expression. Having gotten through the hardest part of the pandemic lockdowns and perhaps the exams, our University's traditional community event continued as if it had never been cancelled in 2020. The cooking teams, the carriage drivers and their grooms, such as 12-times world champion carriage driver Vilmos Lázár, 9-times world champion carriage driver Zoltán Lázár, world champion Gábor Szegedi, Dávid Cseri, the head of the Szilvásvárad Stud, the staff working in the field and at the stands, the referees and the members of the jury and all participants had a pleasant afternoon in a real sunny summer weather.
The carriage driving competition was won by Donáta Bányavölgyi, the manager and actress of the National Equestrian Theatre, the runner-up was Dr. Nikoletta Dragovácz, the director for coordination affairs of the Hungarian University of Agriculture and Life Sciences, while the bronze medal went to MP Dr. István Bajkai, a member of the board of József Marek Foundation.
"I am a bit emotional standing here at the end of a wonderful day, and I hope we can meet and attend this event in the upcoming years as well," said Dr. Péter Sótonyi after presenting the trophies and thanking Kelemen Sárai Szabó and flag sponsor Katalin Makray Schmitt.