Without a doubt, education is the most important factor to escape poverty. If higher education were affordable to everyone around the world, students from low-income countries would have a better chance to change their circumstances. Scholarships can be the perfect solution for students who are not afraid to work hard and make sacrifices to fulfil their dream of studying abroad. Read the story of Joseph Oscar Ullomi who was awarded the Stipendium Hungaricum scholarship and is on his way to becoming a veterinarian.
You are from an exotic place, tell me about your home and your family.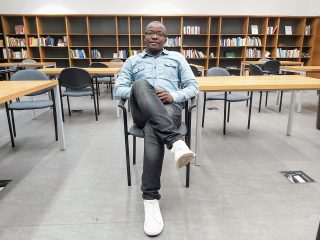 I am from Tanzania, more specifically from Dar es-Salaam but my home region is Kilimanjaro where you can find the highest mountain in Africa. I am the second born of 6; 4 boys and 2 girls. I grew up in Zambia, which is where I had my primary and secondary education. After that, we moved to Tanzania where I went to college. I was living with my uncle and his wife at that time, they are like parents to me.
Tanzania is a low-income country, what kind of opportunities do you have if you want to go to university?
The Tanzanian education system is different from the Hungarian one, we start with pre-primary education, followed by primary, secondary ordinary, secondary advanced, and ideally, university-level at the end. If you have all the qualifications, it is possible to get a government loan to finance your university studies which I also applied for, but I didn't get. Without the loan, you need to pay it from your pocket, search for a job or if you are lucky enough, your family can support you.
You applied for the Stipendium Hungaricum scholarship to continue your studies at UVMB in Budapest. How did you find this opportunity?
At the time when I finished my studies, I wanted to go directly to university, but there were some complications which meant that I could have gone to university the following year. To my uncle's advice, I started to look for scholarship opportunities abroad, contacted several embassies but without success. Then one day my uncle's wife showed me an advert she found. It was published by the Ministry of Education about the Stipendium Hungaricum, and I decided to apply. The Stipendium Hungaricum scholarship was established by the Hungarian Government to promote the internationalisation of Hungarian higher education and to attract students from all around the world.
How did the application process go?
It was easy to understand. I needed to open an account in an online system where you prioritize the programs you would like to attend. I wanted to study veterinary medicine, it was my first choice, my other choice would have been biochemical studies.
After I applied, I waited for the nomination process to start by Tempus Public Foundation. They contacted the sending partner which was the Ministry of Education in my country and they notified me that I was nominated to study in Hungary. I had a short interview with them and then we contacted the university to provide all the necessary information. Luckily, I was exempted from the entrance exam due to my previous education. I had an oral exam and then I could start doing the paperwork, apply for a visa and so on.
What expenses does the scholarship cover?
You get a monthly stipend, free dormitory place or a monthly contribution to accommodation costs, medical insurance and, of course, the tuition fee is fully covered. Luckily, students are allowed to work so I have a part-time job to help pay the extra costs that may arise. I am a cook at a restaurant. Cooking is also a hobby for me, I like grilling meat. Chicken and pork are my favourites.
Tanzania has diverse wildlife with a lot of exotic species we lack in Hungary. How do you describe your relationship with animals?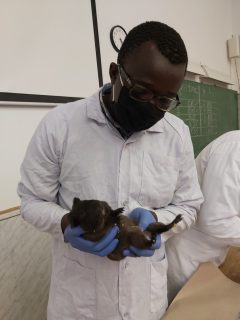 To tell you the truth, I have zero experience with wild animals. Thanks to my uncle's livestock farm where he keeps cattle, sheep and over a hundred goats, I gained knowledge with farm animals. We used to have backyard poultry at home and because of my previous studies, our neighbours used to call me to treat their farm animals as well. I know it might sound funny, but before I started university I was quite afraid of dogs. Because of the practices, it is getting better now and I even plan to adopt one when I move to a bigger flat that allows keeping pets.
You mentioned that you have a previous certificate in animal health. Why did you decide to continue your education?
I have a certificate in animal health and production and after that, I went to the Sokoine University of Agriculture for two years where I got the qualification of a veterinary paraprofessional. I enjoyed the time I spent there, some of my professors really inspired me. After I finished this course, I felt that I should continue to discover the area and choose it as a lifelong career. Besides that, it is very attractive that as a vet I can be independent and I can make a decent living for my family.
What is the difference if you are a vet in Hungary or in Tanzania? Is there any?
Well, I don't know too much about the practice here but as far as I see, Hungarian vets are more proactive. They are the ones who tell the owners, the farmers what to do, how to treat their animals. In contrast, Tanzanian farmers try to do everything on their own and will call you at the last minute, which makes your job very difficult.
You are at the end of your 3rd year. How would you describe UVMB?
This university has a good location, good learning environment and experienced professors. In my first semester, I was totally lost, I didn't talk to anybody, I struggled with the Chemistry course, it was a hard time. I am thankful to professors like Mihály Viktor Pilipecz from the Chemistry Department and professor Bence Rácz who taught Histology for their support and presence. Education is exceptional here, the way our professors teach us and the value of the diploma is super. The university has modern diagnostic equipment like standing MRI or CT scan. In my country, I was told that I might never see a scanning electron microscope, which I managed to work with in the very first year here in the Histology course. It has a history of more than 230 years, it is the Alma Mater of famous vets for example József Marek. In my country, we vaccinate chicken right after hatching to avoid Marek disease. It makes me proud to attend the university which gave internationally recognised scientists like him.
What do you consider your biggest success at the university so far?
Passing the oral exam in Anatomy and completing the Chemistry course. I am proud to be a mentor at the university, part of the SAM-buddy program. I have managed to mentor 4 students so far from different countries. Another achievement is that I convinced two of my former classmates from my previous university to continue their studies here at UVMB, they are in their second year.
Tell me more about the mentor program, how can you help others?
At first, I joined the SAM-buddy program as a mentee in my first year and I was mentored by a 4th-year student. He helped me to adjust to the school, to the city, gave useful tips about finding study materials, how I should prepare for exams and so on. It is basically sharing information and support the freshers. Later on, I decided to join as a mentor to be there, help others as they helped me before.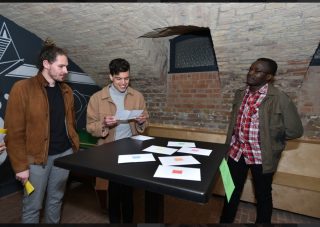 Is it that hard as a foreign student to manage your life here? What is your experience?
You know there are good and bad things but the advantages of studying here outweigh the disadvantages. I have met people from all continents, became friends, I managed to improve my communication, my intercultural knowledge and all that. I needed to step out of my comfort zone, it is not the usual lifestyle and education I got used to. Budapest is a beautiful city with a highly developed transportation system and nice parks. The living expenses are not that high and you are in the heart of Europe. The main disadvantage I would mention is the language barrier. I know a few words, introduce myself and ask others to speak to me in English. I plan to start the Hungarian course the university offers next semester. It can cause problems in your daily life if you do not speak Hungarian at all. Another disadvantage if you came from a distant country that you might not see your family that often.
When was the last time you could visit your family?
I haven't been home since I came here, which was 3 years ago. It would be possible to go home but because of the Covid, it is too complicated now.
The exam period is starting soon, how many exams do you have this semester?
I will have 6 exams, my plan – as always – is to pass every exam on the first attempt. It is my nature to study hard, try to do my best. The exam period is stressful anyways, but if you fail, you need to reschedule everything. I try to avoid that. As I have a part-time job next to my student life, I need to manage my time very carefully. Oral exams are the hardest, you need more energy to learn every piece of information to be able to recall it immediately. I keep my eyes on my future plans.
Speaking of that, what are your future plans?
I would like to expand my previous experience with farm animals, get to know more about modern equipment, you know, become a good vet. I would prefer to practice abroad, get an internship and work for a while. I can imagine myself as an academician too, do a PhD degree to improve my career opportunities. After a while, I will probably go back home to establish my own practice. I know it is expensive, but I will work hard to save money.