While many other scientific areas are studied through formulas, graphs and schematically described processes, histology opens up a magnificent world for you. "We can physically see and marvel at the things we work with," says associate professor Dr. Bence Rácz of the Anatomy and Histology Department. Here's an extract of our interview with him.
I was born in 1975, at the peak of a population boom, so we always had a lot of students in every class. Going to Ferenc Rákóczi II Grammar School, I was lucky enough to be taught by Mrs. Rimóczi, who fascinated us with her presentation of life's mysteries through biology and chemistry. So when it came to the entrance exams for higher education, I only had eyes for biology majors in the country. I didn't want to stay in Budapest. I was admitted to the institution of my first choice, Attila József University of Szeged, and my career was decided in that instant. As a freshman, my histology practice teacher was Katalin Halasy, who had just returned home from Oxford where she worked in brain research.
How did you fit in the University of Szeged?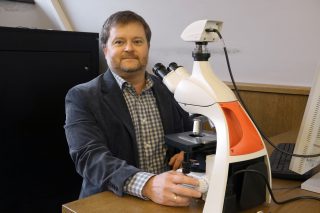 I came to the River Tisza region with a lot of ambitions. Freed from the family nest at 18, I lived in a bustling college town at the dawn of Hungary's democratization. It was as if I had been dropped in the middle of a huge festival. Thinking that my university studies would go just as they did at high school, I took them for granted, but I was wrong about that. Practical classes were characterized by regular oral exams, and I often ran into road bumps because of that, especially in the histology practicals. However, I was so mesmerized by the tissues seen under the microscope that I plucked up my courage and knocked on the door of Professor Halasy's laboratory. We started working together with her, she was my mentor in electron microscopy, which determined my subsequent scientific interest: I have been involved in neurology and neuromorphology research ever since. She also supervised my project work for the Student Research Society. Since the University of Veterinary Medicine had just started the English programme in full swing at the time, she transferred to the UVMB to work as a professor, and she has been teaching histology in English to this day. I consider it a gift of fate that we still work together today.
But you stayed in Szeged for a while…
After obtaining my degree, it was a natural choice for me to continue my PhD studies at the University of Veterinary Medicine, and I was lucky enough to be admitted. I began the doctoral programme in January 1999, under Katalin Halasy's supervision. In parallel with my research and lab work however, I kept returning to Szeged on a regular basis because of my correspondence programme to become an English teacher. I defended my doctoral thesis in 2002.
Reading your CV, I noticed that you had some additional scientific training courses, too.
Throughout my doctoral programme, I often attended the so-called winter and summer schools held by major neuroscience organizations for young researchers. During such a training programme in Poland, I met an American researcher and we had extremely exciting professional discussions. He must have talked about his experiences to his colleagues, because I got an e-mail from another American researcher, who I hadn't known before, and he invited me to his laboratory as a post-doctoral researcher! I immediately answered the generous scientist, Richard Weinberg that I would love to use this opportunity, but I had to finish the third year of my doctoral programme first, and that I had marriage plans, too. It seemed that we would leave it at that.
And what happened later?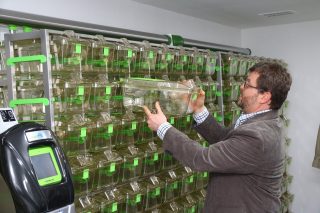 A couple of months later, I got a large envelope from the United States out of the blue, complete with an invitation letter and the necessary visa documents! By then I had already obtained my PhD degree and got married, so we decided to take a leap into the unknown. My wife and I soon found ourselves in the state of North Carolina. I began my research in the medical science faculty of UNC Chapel Hill, which is one of the largest state universities in the US with several Nobel Prize winner professionals working in the teaching and research staff. This is where I learnt everything a post-doctorate scientist needs for launching their own research programme and setting up their team. We had very exciting achievements and published fantastic articles. Many of my most cited releases are from this period. Later on I was given an opportunity to work in an even larger, even better American laboratory.
We were in a major dilemma whether to stay or go. We kept asking each other if we wanted our future children to know their grandparents only from photographs and vice versa. Finally, I paid several visits to Hungary in 2005 to seek advice from Professor Péter Sótonyi, who was already the head of the Anatomy Department at the time. He told me that the department was very much in need of highly-trained professionals, and considering how my experience fits into their traditionally neuroscientific research profile, he could also use me in the foreign language programme, as there was an enormous number of classes to be taught. Unfortunately, even he couldn't guarantee a new university position for me at the time. However, Professor Sótonyi was so convincing that we decided to return home nonetheless.
Why did you commit to histology?
While many other scientific areas are studied through formulas, graphs and schematic flowcharts, histology opens up a magnificent world for you. We can physically see and marvel at the things we work with. As far as tissues and microanatomy are concerned, the living world gives us an insight into a fascinating structure.
Having achieved certain results, researchers often tend to spend far less time in the laboratory. Instead, they write articles, applications and presentations in their rooms. I regularly use the electron microscope, the microscope laboratory and I keep collecting data, because if I ever stopped these activities, I would miss them. I also need them for teaching. We work with nearly all kinds of tissues, which we teach our students as well. Although animals are indeed cute, diverse and fascinating from the outside, it's still important for our students to marvel at the fine structure of organs even in the first year of their studies, otherwise they wouldn't be able to understand how they work and what might "go wrong" in them.
Atricle and photos: Gusztáv Balázs