Name
Kutszegi Gergely József
Department
Position: assistant research fellow
Extension
+361 478 4100 / 8695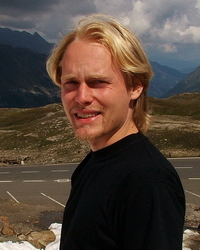 Introduction
Education
2010–2012 Doctorate School in Biology (Eötvös Loránd University), Ecology, Conservation Biology and Taxonomy PhD program, Department of Plant Systematics, Ecology and Theoretical Biology
2002–2008 Student at Eötvös Loránd University, Faculty of Science. Degree: biologist, MSc.
Specification: Experimental Plant Biology, Mycology
Title of degree thesis: A review of family Bankeraceae (Basidiomycota): morphological characterization, molecular taxonomy, identification key, and distribution of related species in Hungary
1998–2002 Student at Óbuda Secondary School, Budapest
Language exams
2008: English, B2
Awards
2005: National Scientific Circle of Students Competition (OTDK) – section: Biology, Educational Technology: First place
2004: Scientific study circle (TDK) at Eötvös Loránd University – section: Biology, Plant Ecology: Second place
2004: Scientific study circle (TDK) at Eötvös Loránd University – section: Educational Technology: Third place
Downloads
Consulting hours:
Every weeks on Monday am. 10-12 hours.
Activity
Memberships, scientific activities
| | |
| --- | --- |
| 2011– | Mentor at European Talent Centre, Hungary region, program: "Tehetségbónusz" |
| 2007–2008 | Member of Hungarian Society for Microscopy |
| 2005– | Member of Hungarian Mycological Society |
| 2002–2003 | Mushroom Expert Certification Course supervised by Eötvös Loránd University and Hungarian Mycological Society |
Reviewer
Scientific Study Circle (TDK) essays, ELTE biologists
Hungarian Research Student Association, essays
at the following journals:
Acta Societatis Botanicorum Poloniae
Dendrobiology
Forest Ecology and Management
Teaching
Botany (practicals and field courses) for veterinary students and biologists.
Participation in projects / Interests
My PhD topic is connected to the Őrs-erdő Project (http://orserdo.okologia.mta.hu/index_en.htm). In this Project, we aimed to unravel the environmental drivers of macrofungal species richness and species composition in managed mixed forests of Őrség, West Hungary. We also try to find relationships between the spatial distribution of macrofungal sporocarps and the spatial pattern of tree individuals.
In the frames of the project entitled "The amount of dead wood and its effect on biodiversity in the Hungarian Carpathians" (http://holtfa.okologia.mta.hu/node/9) we completed the field measurements of dead wood volumes in managed forest stands of the Hungarian Carpathians. We studied the substrate and host tree preferences of wood-inhabiting polypores. We attempted to explore the environmental drivers of wood-inhabiting polypore species composition, and compare the drivers of polypore species composition among different habitats.
Selected publications
2016
Kutszegi G., Papp V. (2016): Erdőgazdálkodási javaslatok a nagygombák funkcionális és faji sokféleségének megőrzésére = Conservation of macrofungal biodiversity in managed forests: recommendations for management In Korda M. (szerk.): Az erdőgazdálkodás hatása az erdők biológiai sokféleségére: Tanulmánygyűjtemény, Duna–Ipoly Nemzeti Park Igazgatóság, Budapest, pp 33–56.
2015
Kutszegi, G., Siller, I., Dima, B., Takács, K., Merényi, Zs., Varga, T., Turcsányi, G., Bidló, A., Ódor, P. (2015): Drivers of macrofungal species composition in temperate forests, West Hungary: functional groups compared. Fungal Ecology 17, 69–83.
2013
Siller, I., Kutszegi, G., Takács, K., Varga, T., Merényi, Zs., Turcsányi, G., Ódor, P., Dima, B. (2013): Sixty-one macrofungi species new to Hungary in Őrség National Park. Mycosphere 4 (5), 871–924.
Other publications
MTMT (full list of publications)